Greek-Motif Coffee Cups

10 oz. "Anthora" by Sherri Cup Inc, Kensington, CT. Circa 1997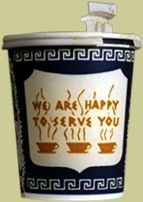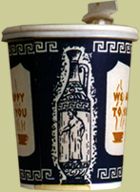 This is the classic among classics. Note the single handle, geometric style amphora flanking the text plate as well as the simple geometric border pattern. Snakelike steam rises from the cups and saucers (??) through the text.
Back to "Cawfee Tawk"