Greek-Motif Coffee Cups

10 oz. "BHC-10" by Alfred Bleyer & Co, Inc., Maspeth, NY. Circa 1997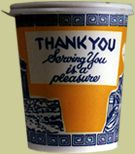 This versatile 10 oz. is distinguished by the liberal use of yellow as a background element. Note the two ionic columns meeting at the seam and the 3/4 view of the Parthenon. Also represented is an unidentified throned figure holding what could be a scepter, possibly Poseidon.
Back to "Cawfee Tawk"