Blashko is an artist who has lived on St. Marks Place since 1955 and has witnessed many changes from the picture window in his first floor apartment. Throughout the 1950s Polish, Ukranian, Jewish, and Italian immigrants were the mainstays of the community. The fifties also attracted the Beat Generation - Thelonius Monk, Charlie Mingus, and others played cool jazz and made history at the Jazz Gallery and at the Five Spot.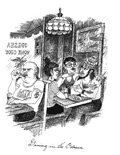 The '60s brought throngs of creatively-costumed hippies. Head shops proliferated and Tompkins Square Park became the east coast center for smoke-ins and outdoor rock concerts. Abbie Hoffman and Allen Ginsberg lived nearby and roamed the neighborhood, spreading revolution and love.


During 70's the Saint Mark's movie house on the corner of Second Avenue showed great films for about $2 and the few "straight" people in the audience would get high inhaling their neighbor's smoke. Above the movie house, the Negro Ensemble Theater provided wonderful and provocative drama. Today the movie house is a GAP, and the theater is a video store.
The Reagan era in the 1980s brought "gentrification", meaning skyrocketing rents, the ubiquitous art galleries (as opposed to the 60s "poster shops") and the near disappearance of the ethnic "mom-and-pop" stores.

A new group of migrants, "the Homeless" moved into Thompkins Square Park along with a new generation of disaffected youth, "Punks", who were even more gaudy and definitely more nihilistic than their predecessors. The city's "war against the poor" culminated in the Tompkins Square Riot of 1988, when police and citizens clashed over the forcible removal of hundreds of people from their makeshift shelters in the park.
At the end of the decade the hyped-up market burst, and "for rent" signs appeared for the first time in years. In spite of all the changes, Saint Mark's Place still affords one of the most engaging views of humanity and its discontents in New York City, especially for those like A. Blashko who are compelled to draw.
If you like A. Blashko's drawings, you can purchase "Saint Mark's Place", a velo-bound book of black-and-white illustrations for only $15, including shipping & handling. Blashko also produces original color art for purchase.

To purchase a book or inquire about color originals, call (212) 475-4944.