Interview by Marlena
Perfect played Coney Island High for the NY Music Festival on July 16th. Their high-energy set included some great new material, just as rocking as the debut EP "When Squirrels Play Chicken", but a bit more catchy and melodic. Watch for these guys in the coming year!
I chatted with Gersh and Marc for a few minutes after their gig - and with Tommy the following day - about what the band has been up to, and their plans for the future, among other thingsÖ.
GERSH & MARC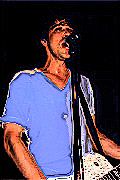 What do you like doing when you're not playing music?
Marc: Well I'm a big sports fanÖ
Gersh: I like working on my house.
Marc: And shopping! Everywhere we go we like to pick up good stuff.
Gersh: Yeah, my place is full of great things I've found from the different places we've played.
Marc: We do have lives outside of playing -- I mean, we're normal people. If we're on a plane you're more likely to see us with a sports magazine or whatever than SPIN or Rolling Stone!
Tell me a little about the LA "scene"- what's going on there?
Gersh: People are into taking ecstacy and dancing!
Speaking of which, does all the electronic music out there now intimidate you at all? Do you think there's still a strong audience for the kind of music you play?
Marc: It's all about the pop song -- there will always be a demand for that. Even a lot of the techno stuff is rooted in the pop song.
It's been stressed that Perfect is a real band -- it's not "Tommy and his hired guns"
Marc: Yeah, it really isÖ.it's a collaboration. It's funny, Gersh and I got into a big argument a while back and it really scared Tommy, he thought the band was over or something!
Gersh: I think it's an adjustment for him, I don't think he's been in a true band situation much before. We've had to help him get rid of these "Westerbergian" notions of what a band is.
What's your favorite Dr. Seuss book?
Gersh: Horton Hears A Who.
Marc: There's a new one that was done by the different people who worked with Dr. Seuss, My Many Colored Days -- I really like it, because that's what I have - many colored days! (laughs)
---
TOMMY
How did you like playing on the USS Intrepid the other night?
It was fun actually. The thing that got me kind of jazzed about it was I saw a show on the History Channel the night before we left about the Intrepid. It was pretty amazing -- it talked about the five kamikaze planes that flew into it and fucked it up pretty bad. But the night we played it was the hottest day in New York history or something like that! It was awful, I couldn't even breathe. We played outside on the deck.
In general, do you like visiting New York? Do you like it or hate it here?
I would live in New York if I could afford it, I really do like it here. I'm a city kind of guy, I like the tall buildings and the closeness of everything in New York. LA is like a big suburb, so in comparison, I'm more of a New York person than an LA person.
How long have you lived there?
A couple of years. I like it alright. The best thing about it is I've made some really good friends there. Like the guys in my band, they'll probably be my friends forever. It's just one of those things.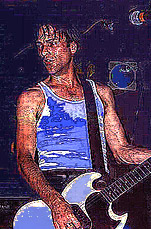 Which brings me to my next question: How did Perfect come together? How did you meet the guys you're playing with?
I was trying to put a band together for Bash & Pop originally, when I moved out there. I kept coming across guys that would hang around for a minute that would suck --- but Gersh stayed, he was the first guy I found. We had a couple bass players we found that sucked, and a couple guitar players we tried that sucked. After finally getting Marc and Gersh, we decided to just change the name. By the time we got the band together all the songs were different so we thought it would be stupid to call it Bash & Pop. So we decided to just change the name.
How did you come up with the name Perfect?
It was just a spoof, we thought it would be funny and overly ballsy, and stupid, basically.
Did you audition people or was it through friends of friends?
Friends of friends. We didn't really do any hardcore auditions, I don't think I could really do that "come in here and play your ten best licks", that would be pretty fucking lame.
If I had never heard your music before, how would you describe it?
Sometimes loud, sometimes fast pop songs. Not a punk bandÖI've never been in one of those (smirks). Loud, crummy pop songs.
Where does Perfect tend to get the best audiences when you play live?
We're an East Coast band I think. Parts of the midwest, but mostly East coast. I think that even goes back to the Replacements, we always did better on the east coast than the west coast in a lot of ways. We have more friends here.
Tell me about your new bass player Jeff.
Well, he's not our bass player per se, we borrowed him. Our bass player Robert quit in the spring -- he wasn't happy so he decided to bow out. Jeff is one of Marc's friends, as Robert was. He said he wanted to do it, so he's been playing some gigs and helping with the record. He's not a permanent bandmember. I think what's going to happen is when we go back I think I'm going to start playing bass again and we'll get another guitar player.
Is it easier to find a good guitar player than bass player?
I hope so. It's been a pain in the ass so far! (laughs). Taking that long to put a band together is a nightmare.

What have you guys been doing since "When Squirrels Play Chicken" came out?
We toured for two months behind that release, and we lost Robert after that. We've been working on new songs and trying to get our record deal together. It's taken a long time to get our deal with Restless together, just because the band has been slow in deciding, and things were changing with their company -- we wanted to wait until it happened before we decided anything. Took a little while for the Regency (Pictures) thing to happen before we decided anything.
So you're sticking with Restless.
Yeah. We signed a five record deal with them.
What are the advantages of working with Peter Jesperson and being on Restless, instead of going with a bigger label and maybe bigger bucks?
I've known Peter forever, so I have a real comfort zone with that. And it's a small company, they don't have a huge roster, which means they can focus a lot more on the records they do work. Now with this Regency thing money's not a problem. So in that, there's a whole lot of possibilities for success, provided people like the songs. Obviously, it all comes down to that.
Have you gone into the studio yet? When can we expect to see something new from you guys?
We did some pre-production type of recording about a month and a half ago. When we get back from this trip we're going to start figuring out who's going to produce. Hopefully we'll record in like August, early September at the latest. But I think our record will come out in February. I hope!
How did you like working with Don Smith? (producer on Bash & Pop and "When Squirrels Play Chicken" as well as the Stones, Cracker, Iggy Pop)
I like Don Smith a lot. He's a great guy, and he makes amazing sounding records. I would work with him again, but he's a lot of money, he makes good money doing it. But because I've been there and made a couple of records with him already, I think it might be time to move on and find someone different. Maybe find someone who's a bit noisier. Don Smith makes clean-sounding records.
Off the top of your head, if you could work with any producer, without considering money -- who would it be?
Gil Norton maybe, he just did the new Foo Fighters record and all the Pixies records. I like his stuff a lot. AndÖ.I dunnoÖ.Mutt Lange?
Really!
(Tommy gives a sarcastic smirk indicating he's joking)
I don't know. I mean, in a lot of ways producers are just good joint rollers, you know?
So from now until the record comes out, are you guys going to try and play some gigs or are you just going to be working on the new record?
I think that right now gigs are distracting in the wrong way. We need to focus, work on new stuff and get the record going. Trying to rehearse and work on a live set and work on the record at the same time is too much.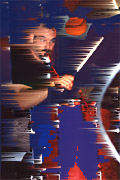 What was that song you played last night, "Seven DaysÖ"?
Seven Days A Week.
That was incredible. Great song.
Thanks. It's a new one. It'll be on the new record.
I loved hearing "Jet" at your gig last night, that was great -- so was Crocodile Rock, on the record. Is there any cheesy 70s song that you would like to do that you haven't performed yet?
I've pretty much done them all. It's to the point now where I'm looking for songs I didn't like for the band to play.
I went to an online chat recently where you were the guest, and your mom was there with you. Has she always been supportive of your playing music, especially since you started so young?
She was always supportive, because playing basically got me out of trouble. I was a petty thief before I joined the Replacements, I was on my way to being bad. I almost went to jail, but I slipped through that one just barely. Playing gave me a focus, and I made money. When you can start paying for your own stuff at seventeen, it's a good thing.
What do you think about this Replacements compilation that's coming out?
Warner Brothers is doing it. Well, I can understand how they would want to make some money off the catalog, but I don't think it's a timely thing. The Replacements only broke up six years ago, and there's no band right now that's really huge singing our praises to an extent that it makes you want to go "this would be a really good time to put out the back catalog". And it only has half the stuff -- it doesn't have the Twin/Tone stuff, which to me seems wrong. It's like only the second half of the book. They're doing a good job of putting it together with what they've got, I just don't think the timing's that great.
What kind of music do you listen to?
I like the Squirrel Nut Zippers a lot, and the Muffs new record is great.
What do you think of all the new British bands?
I hate it. It's crap. I mean, I like some of Oasis' stuff, I like some of the Supergrass stuff, but after that so much of it sounds the same to me.
It's funny how many bands are really retro -- everyone thinks they're so new and fresh, when it's exactly the same thing as ten, fifteen years ago.
And the whole idea of new wave kind of gives me a headache. New wave is the next big thing. Fuck, not again! (laughing)
I kind of have a problem with that in a lot of ways. There are a lot of bands in LA that are totally on that whole ska/punk rock tip. How fucking annoying is that? I hated ska to begin with! I mean, I liked the Specials and Madness and some of it, but overall I find it totally annoying. Except for say, the Mighty Mighty Bosstones, who are really good. Their music isn't my cup of tea exactly, but it was great to see them live -- I was totally blown away at how their show was really fun and everyone was digging it. I can totally appreciate that, but basically I hate that shit.
And all the hardcore punk that won't go awayÖ
Cheap! Can you say "Kmart is where I got my first punk rock record?"
Finally, the silly question: what's your favorite Dr. Suess book?
The Lorax. I like that one.