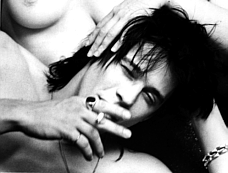 Coyote Shivers
The enigmatic Coyote Shivers, who fronts a three-piece band based in NYC, has spent the past year wowing crowds all over America.

His song "Sugarhigh" (produced by Daniel Lanois of U2, Dylan and Eno fame) was featured on the soundtrack to "Empire Records" in 1995 (By the way, he also has a role in the movie as a slacker musician who works at a record store).
With catchy power-pop songs that are packed with self-effacing humor, intelligence, and overt sexuality, Shivers invokes the spirit and intensity of a young Johnny Thunders. The NY Press raved "Shivers is like Lou Reed without the dark pose, Elvis Costello without the thesaurus, the Rolling Stones with a sense of humor, and Richard Hell without the chip on his shoulder."
Coyote Shivers is typically seen playing gigs with glittery stick-on stars covering his bare torso. New York Trash is proud to report that some of our friends once stole his leftover "sticker stars" from his dressing area after one of his gigs, and wore them around the club stuck to their faces and handbags. Is Shivers starting a new fashion craze? Only time will tell...
They recently opened on several dates of the triumphant KISS reunion tour including Philadelphia, Chicago and Detroit and are getting ready for a tour of Canada in March and Great Britain in April. Coyote Shivers debut album is available on indie label Mutiny Records (now distributed by Elektra). To quote Ben Edmunds of Mojo Magazine, "Imagine if Johnny Thunders shot up bubble gum instead of heroin and you'd have Coyote Shivers". Well there you have it.



COYOTE SHIVERS are:
Vocals/Guitar: Coyote Shivers
Drums: Jack Pedler
Bass: Dagon Spector

DISCOGRAPHY:
albums

Coyote Shivers - Mutiny Records - 1996
CONTACT: Coyote Shivers, Mutiny Records, 676 Broadway, 2nd Floor, NY, NY 10003
or E-mail mutinyrec@aol.com.