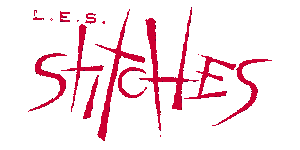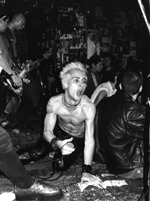 Lower East Side's STITCHES
The STITCHES are a fast, high energy punk band from the Lower East Side of Manhattan, creating their own sound by mixing late 70's style punk with themes reflecting the modern problems of today.
Since first performing in the summer of 1994, the STITCHES have progressed from opening act to headliner at packed clubs in New York such as Continental, CBGB, Limelight, and Coney Island High.
The band recorded their first single, "Rustic City" with producer Daniel Rey on Honey Roasted Records in 1995. Two more singles, "Could Just Die" on Holy Plastic Records and "Nut Job" on Eyeball Records were released in the spring of 1996. Their first full-length CD, "Snapped" was released in early 1997 on Eyeball records.
The band signed with NG Records in 1997, and have just finished a new full length album "STAJA '98 LES" with producer Daniel Rey. The new record should be in stores October 1, 1998. Also, curently available on Victory Records is a new 7" single "Down the Drain" b/w "Parasite."
The band will be hittin' the road on the "Warp tour" this July, playing with Rancid, Cherry Poppin Daddies, Bad Religion, the Specials and many others.
IT'S HERE, IT'S HERE!!!
Click here to see the newest video "Down the Drain" from L.E.S. Stitches (Quicktime 3)

Listen to a 436k .au sample of "Nutjob"



Listen to a 583k .au sample of "Never Coming Back"
The STITCHES are:
Vocals: Mick Brown
Guitar: Curt Gove
Guitar: Lorne Bar Sex
Drums: James Baggs
Bass: Damien
DISCOGRAPHY:
singles
(available at Generation Records in the Village, or send the band e-mail to order)


"Down the Drain" b/w "Parasite" - Victory Records - 1998

"Could Just Die" b/w "Cockroach" - Holy Plastic - 1996

"Rustic City" b/w "Never Comin' Back" - Honey Roasted Records - 1995

CONTACT:
Stitches Hotline (212) 802-8728 or E-mail drnkmonkee@aol.com.