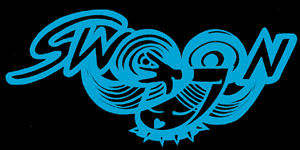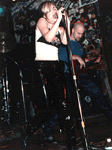 SWOON
Super charged...
They've been described as loud with a melody. SWOON's hyped-up energy is present on stage and in their songs, which careen through a wild range of Crayola colors, like super chartreuse, ju ju bug blue,& fire ball red. Catchy melodies are the back bone of this music. The swirling, edgy assault of this band is rooted in the sometimes rowdy, sometimes ethereal vocals of Sasha Ikovic and driven by the angst-ridden, satirical guitar of Scotty Conant.
The band formed three years ago in NYC in the back seat of a Plymouth Duster, and are now, for better or worse, joined together. Their recent acquisition, a blue Ford van, has made possible a happier, more loving home.
WEIGHT: 635.5 lbs.
HEIGHT: 32.6 ft.
FAVORITE COLOR: Uh... lemon jell-o yellow
FAVORITE FOOD: Denny's
BEST FAN EXPERIENCE: Portland Maine - Some drunk twenty something guy at the end of the bar,barely coherent, said "Man you guys were awesome... Really, I was truly inspired." Then passed out into his shot of bourbon.
SWOON is:
Vocals/Guitar: Sasha Ikovic
Guitar: Scotty Conant
Drums: Evan Burr
Bass: Sid Rietzfeld
Keyboards: Jim Morgan

DISCOGRAPHY:
CDs


Swoon - Lick My Vinyl Records - 1996
CONTACT: Swoon, 286 East 2nd St. #2c, New York, NY 10009
or E-mail swoonNYC@aol.com.