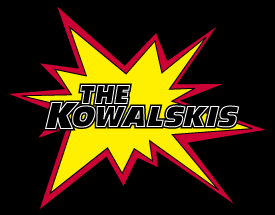 The Kowalskis
At a recent CBGB's show, a fan threw $24 on stage, but it wasn't always this easy for The Kowalskis. Lindsey had to become a co-owner of the New York nightclub, Coney Island High, just to get them good shows. But, with an ugly cease and desist letter form the former wrestler, and two vans with blown engines, the former Killer Kowalski has snapped on the rubber gloves and washed some dishes to be where they are today.
The Kowalskis CD "All Hopped Up On Goofballs" sounds like a hornets' nest that's been whacked with a stick. For lack of a better term, this BubbleGumPowerPopPunk sound would rile up any teenager while blasting from his or her convertible on the way out to Coney Island on an July afternoon. Parents may not dig it, but there are some toe-tapping hum-along tunes to keep you from being thrown out of the house. Producer Andy Shernoff of Dictators and Ramones fame would let his kids play it, if he had any, and hope they didn't pick up any of the dirty words.
The Kowalskis have deep roots with each other. Lindsey met Jack and Paul when she was a budding pubescent and they played in Adrenalin O.D. She invited them to their house for breakfast, and Jack wrote to the local fanzine that the best thing about it was tracking dog shit through her house. Lindsey was horrified years later when Paul came to audition for Killer Kowalski, and prayed to Christ on a bike that he didn't remember her, until he agreed to be in the band. "I guess they wanted me to cook! I was a kid! Whadddya want!", Lindsey said. Paul is now a good cook.
Jack is the wise-ass, Paul is the curmudgeon, Lindsey is the go-go girl, and Greg is the, uh, drummer ('nuff said). Despite the trauma of their first meeting, the band has fun riding in the van together for hours, where most meet their doom. The Kowalskis' first show was opening for Iggy Pop, and shows followed with The Ramones, The Toy Dolls, The Dickies, The Dictators, D Generation and plenty of nobodies. They have unnecessarily kind reviews from CMJ, Flipside, Paper, The Aquarian and New York Press, as well as local and national airplay on radio stations for the deaf. Oh, yeah, and they got one cease and desist letter from a wrestler. And a partridge in a pear tree.
"As long as some band is recording an album called All Hopped Up On Goofballs (as The Kowalskis are doing), punk is still screaming and kicking and causing trouble."
"Whether digging into a set by the still-revelatory Sonic Youth, discovering The Kowalskis, tripping to Altamont and Acid King or rockin' to The Friggs and Nashville Pussy, I found SXSW to be an amazing affirmation that the spirit of punk lives in 1998, just as it did in 1976."
- Michael Goldberg, Editor-in-Chief, Addicted to Noise
http://www.addict.com/html/hifi/Columns/Editorial_Rant/404/index.html
Look for The Kowalskis' debut CD "All Hopped Up on Goofballs" available for preview to press, for booking and frisbee throwing Spring1998 from blackout! Records (PO Box 1575, New York, NY 10009).

Listen to an AU soundfile of "First Date"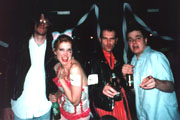 The Kowalskis:
Vocals/Guitar: Lindsey Anderson
Guitar: Paul Richard
Drums: Greg Farah
Bass: Jack Steeples

DISCOGRAPHY:
singles

"First Date" b/w "Goodbye Daddy
Upcoming Gigs:
July 17 - Bizmo's - E. Stroudsbourg, PA
July 21 - Acme Underground - New York, NY
July 2 - Joey Ramone's Cyberbash/Don Hill's - New York, NY
July 28 - Black Cat (w/The Frogs) - Washington, DC
July 29 - (getting name of venue) - Baltimore, MD SOS


CONTACT:
The Kowalskis' Hotline (212) 604-4263 or E-mail kitty@thekowalskis.com.
To buy the new single: Send email to Blackout! punker01@aol.com
or call (888) HEY-PUNK.
Also, our single is available for $4.00 ppd from blackout! PO Box 1575, NY, NY 10009.