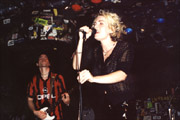 Texture
Not your typical New York band, Texture twists pop songs around big, atmospheric guitar sounds. With singer Ali Rogers providing strong vocals over a sonically diverse landscape, Texture is carving its name into the Lower East Side scene.
Texture owes much of its sound to that group of islands known as Britain. With half the band hailing from the UK, that comes as no surprise -- although guitarist Steve Austin grew up stateside listening to Fugazi, Bad Brains, Sonic Youth, and British bands such as the Jesus and Mary Chain and the Cure. Add to that a couple years living on the Continent while bands such as My Bloody Valentine, Swervedriver, Curve, and the Boo Radleys reigned, and the basis for Texture's aural fixation can be realized.
With the introduction of Ali on vocals and Griff on drums (both Brits), the band's sound became aligned with the current wave of "Brit Pop" invaders. It follows then, that the band has been enjoying successful shows at NYC venues such as TISWAS at Coney Island High.
Even though the band's current line up was only recently established (with the newest member Chris Lee on bass guitar), Texture has been impressing crowds regularly at Lower East Side clubs. Watch for upcoming releases as the band is scheduled to record. Their first four song EP is available now.
Listen to an .AU sample of "Blood Black."
Listen to an .AU sample of "Genius."

TEXTURE is:
Vocals: Ali Rogers
Guitars: Steve Austin
Drums: Griff
Bass: Chris Lee

DISCOGRAPHY:
albums

Texture - 1997
CONTACT: Texture - PO Box 1241, Scarsdale, NY 10583 (914) 345-5904.