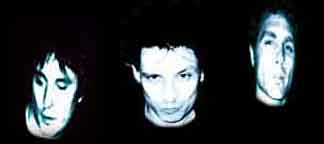 The Messyheads
Messyhead: An affectionate slang term for somebody who is overall a "good guy", but a social misfit or fuck-up! Used mainly in Irish and English circles e.g. "He's alright, but a bit of a messyhead" or "Yer man's a messyhead!" -- Maybe YOU know one!
Finally, the saviors of all that's good about REAL rock n' roll have risen their ugly heads! Continuing in the tradition of the Flamin' Groovies, Big Star and the spirit of other fucked-up genius.....(all that good stuff!!!).
Described by one observer as "a bunch of messyheads", The Messyheads are the band to break all rules, owing allegiance to none, who'll steal every idea that ain't tied down (thank you Willie Dixon!).
Equally as splendid as their music are the band members themselves:
Chuck Fields, guitar/vocals: from Texas, USA - the bastard son of gram parsons, ron wood & bob stinson ( - can you believe it!)
John Connor, bass/vocals: from Dublin, Ireland - the physical embodiment of Rock'n'Roll!
Dante Piacenza, guitar/vocals: from Connecticut, USA - secret weapon numero uno!
The band contributed the track "I only wrote this song for you"" for an upcoming Johnny Thunders tribute album. Demos are available upon request, one of which was done in the Rolling Stones' mobile studio. The band are currently writing their fourth album (a double), even though they have yet to record their first! Their first single a new version of 'Can You Save Me?' ( with bonus tracks 'All The Things She Said' & ' Mockingbird') will be out in Europe in early 1999, soon to be followed by a full-length album!

Listen to "Virtue" (.wav)

Listen to "I'm No One" (.wav)

Listen to "Who You Are" (.wav)
THE MESSYHEADS are:
Vocals/Guitar: Chuck Fields
Bass/Vocals: John Connor
Guitar/Vocals: Dante Piacenza

UPCOMING GIGS:
Check back soon.
CONTACT:
Bookings/info: Messyheads@aol.com
Legal Representation: Michael Guido(Gendler,Codikow and Carroll) - (212)759-2300
Check out the Messyheads other Web site at:
http://members.aol.com/messyheads/messyheads.html