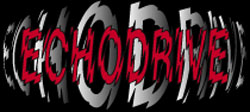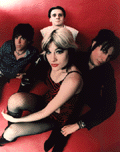 Echodrive
Blending influences ranging from Rock-a-billy, surf, garage, psychedelic, and punk, Echodrive creates a truly unique sound that stands apart from the mass of current New York bands.
Formed in September of 1995 by guitarist Mark McCollom and Lucy Knight, the band has developed a wide ranging repertoire of songs.
The backbone and rhythm section of the band, Eric petersen (Bass), and John Grey (Drums) complete the line-up to blend driving, hard hitting drums and powerful yet melodic bass with reverb drenched guitar and passionate vocals.
Echodrive is currently playing the New York club circuit with dates at CBGB's, the Continental, and Don Hill's. A spring tour of Paris is also in the planning stages.
ECHODRIVE:
Vocals: Lucy Knight
Vocals/Guitar: Mark McCollom
Vocals/Bass: Eric Petersen
Drums: John Gray

CONTACT: Echodrive Hotline (212) 726-3041