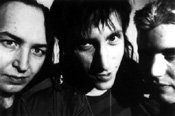 STOP
I'll go see STOP anytime, anywhere, because not only do they play the best rock & roll around, but they remind me of what the Ramones could have become if Johnny ever learned to play the guitar.
You see, twenty years after the Ramones re-invented rock & roll with their tidal wave of sound, and fifteen years after rap music pushed the boundaries of pop even further, I am missing the sound of lead guitars.
Enter Mickey Leigh and STOP. Mickey is one of those singers and lead guitar players that works for me. Part Pete Townsend, and the other part Joey Ramone (Mickey is Joey's real brother), STOP combines the best moments of punk -- great three minute songs with the explosive lead riffs and great passionate vocals.... Yeah. I love that. STOP is the closest thing I've seen to Johnny Thunders and the Heartbreakers. If this was 1976, STOP would be playing double bills with the Dead Boys. If this was 1976...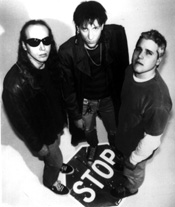 It's funny, but I hardly listen to any music made past 1979. It wasn't a conscious move, I just haven't heard much that equals The Stooges, The Dolls, Thunders, Voidoids, Ramones, Velvets, or any of the other great stuff that I love.
Then Mickey gave me his tape. We've been friends for a long time. I saw him when he had his band with Lester Bangs, I saw him after he broke with Lester and formed the Rattlers, I've seen him play throughout the years and have always been a fan.
But I really wasn't expecting STOP to be as good as they are. I guess I just got cynical. But when I put the tape on that Mickey gave me, I couldn't stop playing it. I even used it to seduce a new girlfriend. She was one of the rock & rollers who missed the Seventies and was caught in the same Velvets, Stooges, Punk groove as me.
But when she heard STOP -- not only did she fuck me -- but insisted I make her a tape. Like me, she wasn't looking to add anything to her record collection. So I thought it was the best testimonial for a new band that I've ever heard -- the music compelled her to wild sex (believe me, it wasn't me, I was too tired) and then called me until I made her the tape.
Of course I said I'd make her one, and then forgot all about it.
We broke up soon after she got the tape. Such is life. But I still have my copy -- I can still stand outside Coney Island High -- in a leather trench coat -- a dinosaur peering from the shadows -- whispering "Pssst, hey, you want to hear what it sounded like when rock & roll was still dirty?"
by Legs McNeil
Fans of STOP (or anyone curious) can hear a series of TV promos the band recorded for Nickelodeon's "Angry Beavers" and "Hey Arnold" shows. You can catch them mostly between 7:30 p.m. - 8:30 p.m. between June 15th-26th.

Listen to a 500k AU sample from "Jerk" from the "Never" on Smut Pedlurz Records.
STOP is:
Vocals/Guitar: Mickey Leigh
Drums: Pat Carpenter
Bass: Stephen Sane
DISCOGRAPHY:

Never - Smut Pedlurz - 1995
Upcoming Gigs:
July 9 - Max's Kansas City - NYC
CONTACT: STOP 150 Burns St. #1D, Forest Hills, NY 11375.
(718) 575-1353
Copyright ©1998. New York Trash. All rights reserved.