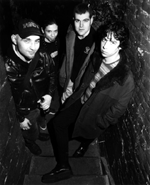 Murphy's Law
Since the mid-1980s, for many rebellious kids, experiencing a Murphy's Law show has been a rite of passage. The guys in Murphy's Law always put on more than a live show & their performances are big parties where everyone's invited. A mainstay of the NYC scene for years, extensive touring has secured Murphy's Law as a perennial favorite of hardcore fans everywhere.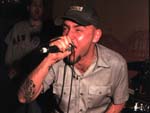 Over the course of their career, Murphy's Law have recorded three classic full-length albums of angst-ridden punk songs: "Murphy's Law" (1986), "Back With A Bong" (1989) and "Best of Times" (1991), as well as a great EP -- "Good For Now" (1994). Their new album, "Dedicated" produced by Daniel Rey, reveals the band's development into increasingly meaningful songs, without losing their trademark sense of humor and party attitude. The album was recorded "free form" through monitors to acheive a live feel, complete with the band's hard-driving, pure punk sound. Murphy's Law have been touring Japan, Australia and Europe in support of "Dedicated". Let the party begin again!

MURPHY'S LAW:
Vocals: Jimmy Gestapo
Drums: Eric Arce
Bass: Dean
Sax: Seaton Handcock
See the Murphy's Law Poster Gallery.


Listen to a 462k au file of "Shut Up".


Listen to a 627k au file of "What Will The Neighbors Think?".
DISCOGRAPHY:
Albums

Murphy's Law - Profile - 1986

Back With a Bong - Profile - 1989

The Best of Times - Relativity - 1991

Dedicated - Another Planet - 1996
EPs

Good For Now - We Bite America - Germany - 1991
Singles

"What Will the Neighbors Think?" - Another Planet - 1996

"Kansai Woman" - Japan Overseas - 1996
CONTACT: Murphy's Law - P.O.Box 6254, Astoria, NY 11106.
or email Another Planet Records